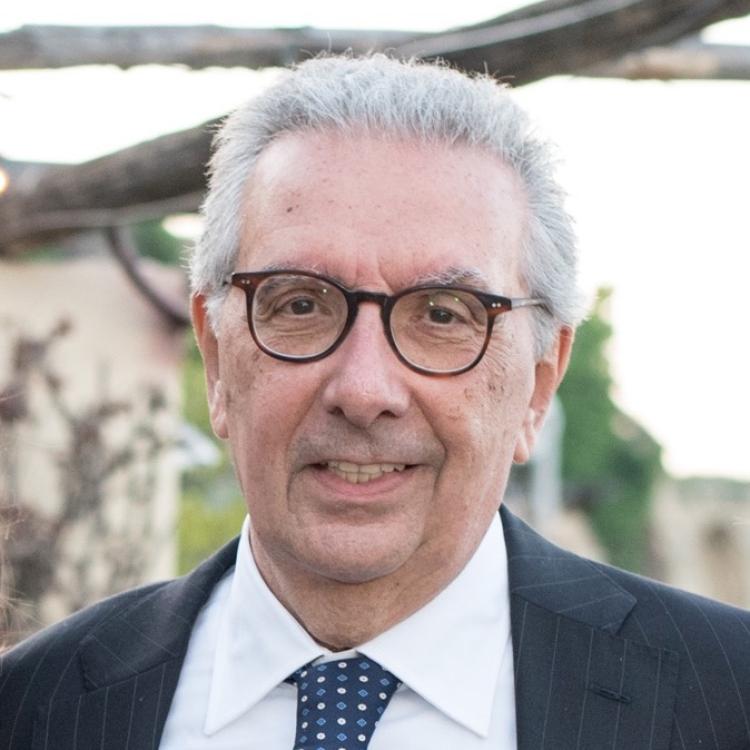 President
Pietro Forestieri
E-mail
presidenza@ceinge.unina.it
Full Professor of General Surgery of the University Federico II of Naples
Director of U.O.C. of General, Oncological, Bariatric and Endocrine-metabolic Surgery of the A.O.U. Federico II of Naples
Chairman of the Steering and Audit Council of the National Cancer Institute Pascale Foundation in Naples
President Emeritus of the Italian College of Surgeons (C.I.C.)
President Emeritus of the Italian Society of Surgery of Obesity and Metabolic Diseases (S.I.C.OB.)
President Emeritus of the Italian Society of Digestive Pathology (S.I.P.A.D.)
President's message
CEINGE-Biotecnologie Avanzate is, today, a splendid reality, of absolute national and international excellence.
The man who is responsible for the creation of CEINGE is Professor Francesco Salvatore, Master of life and science for his many students and a rigorous researcher who has brought prestige to the Academy, representing a point of absolute excellence. His brilliant mind has always looked beyond and far ahead. Only in this way could one have imagined, conceived, built and strengthened a center of excellence, which has become, over the years, the CEINGE.
Only a Visionary like Him could do all this. Francesco Salvatore is, however, also a Man of doing, with constant commitment and dedication outside the ordinary and only this has allowed His idea, His dream to become a reality, a splendid reality that leaves to His Students, to City, Region and Scientific Community.
CEINGE has been operating in the field of molecular biology and advanced biotechnology applied to human health for over 20 years and continues to obtain scientific results, of international importance and with important implications on the future of diagnosis and therapies for diseases often with poor prognosis, through the daily work of its researchers, mostly young men and women.
The open laboratory model, adopted since its inception, has in fact allowed CEINGE an intense turnover and, therefore, also the choice to focus on young researchers, a choice that has proved successful and that, therefore, continues to be pursued. Numerous, in fact, are the national and international awards received by our researchers.
About 200 people, including PI senior scientist, Junior PI, post doc, PhD students, SEMM fellows, technicians and technical-administrative and auxiliary staff, engaged in fundamental and applied research projects in different areas of biomedical sciences, as well as in numerous infrastructural technological platforms and core facilities established by the Company to support research "in-house" and "out-house".
In particular, in the field of molecular diagnostics (including prenatal and neonatal diagnostics through screening programs), it deals with some hundreds of genetic, inherited and acquired diseases, to which are connected activities of development and validation of diagnostic methods and new therapeutic options, based on the most advanced biotechnologies. It offers assistance not only to patients in the Campania Region but also to those from other Italian Regions and other Countries.
For this type of activity, unique in its breadth and type of services offered in the South and recognized as one of the main in Italy, CEINGE has received numerous and prestigious awards.
Finally, at CEINGE, there are various facilities, high-tech services supporting research and advanced diagnostics, which are unique at the regional level and are also competitive at national and international level. CEINGE has invested in infrastructural and technological capital, acquiring genomic and post-genomic platforms, which also provides external research groups and companies, especially SMEs, for the purpose of continuous updating according to the highest international standards.
Regarding technology transfer, one of the cornerstones of the institutional mission of CEINGE is the transfer of knowledge, statutory purpose he pursued through a process of incubation of laboratories and companies in the advanced biology and biotechnology. At CEINGE, operating units of the University Departments of "Federico II", "Vanvitelli" and "Parthenope" of Naples; University of Molise have settled in recent years.
In addition, public research centers (such as the Institute of Genetics and Biophysics "A. Buzzati - Traverso," IGB CNR, Zoological Station "Anton Dohrn") and private entities, such as Nuclear Laser Medicine srl, Arterra BioScience , BIOGEM and Okairos Ltd. - today Reithera Ltd., still present at CEINGE.
Regarding advanced training, CEINGE has a consolidated experience in the development of human capital and higher education, thanks to the collaboration with Italian universities and some CNR institutes. It is a training center of international level as Neapolitan seat of SEMM (European School of Molecular Medicine). Finally, it hosts in its specialized laboratories and university trainees who have the opportunity to train under the guidance of researchers of high scientific profile, immersed in a reality characterized by the latest generation of biotechnology.
CEINGE is characterized by the interdisciplinary nature of its research, held together by a common biomolecular approach, integrated by the increasingly indispensable IT component (for example, integration with Engineering and Physics Departments).
The discovery of DNA, the advent of new recombinant DNA technologies and, more recently, of genomics and proteomics, have profoundly transformed scientific research in the field of health sciences.
The development of Biotechnology has determined the possibility of achieving results of enormous scientific importance, new targets and products for the diagnosis and therapy of pathologies, plants with innovative nutritional characteristics, sustainable production technologies and, above all, has opened new scenarios of knowledge.
These new perspectives have resulted in an increased interest of big pharmaceutical companies, chemical and agri-food processing, which have invested considerable resources in research and development, making the field of biotechnology one of the sectors with the highest economic and social potential.
At the same time, the progress of biotechnology has also stimulated the development of a new type of business that finds its roots in the exploitation of the "intellectual property" excellence of the researchers who compose it and in the transfer of knowledge and technological innovations to the productive sector.
Scientific research in the field of Genetic Engineering and Advanced Biotechnology and the transfer of knowledge to the productive sector, together with an action aimed at promoting interaction with University Institutes and public and private research institutes and the development of training activities in the areas of its competence, they represent the main statutory aims of CEINGE.
The scientific activity is the development and implementation of research in the field of advanced biology and its applications, with particular emphasis on biotechnology applied to human health. Specifically, they are the subject of interest in the molecular basis responsible for inherited and acquired genetic diseases, with the aim of achieving the identification of preventive lines, diagnosis and treatment, moving from knowledge of the alterations linked to the disease.
Our goal is, as our motto says, "Listening to biomolecules to silence diseases".
Prof. Pietro Forestieri
Chairman of the Board of Directors CEINGE-Biotecnologie Avanzate