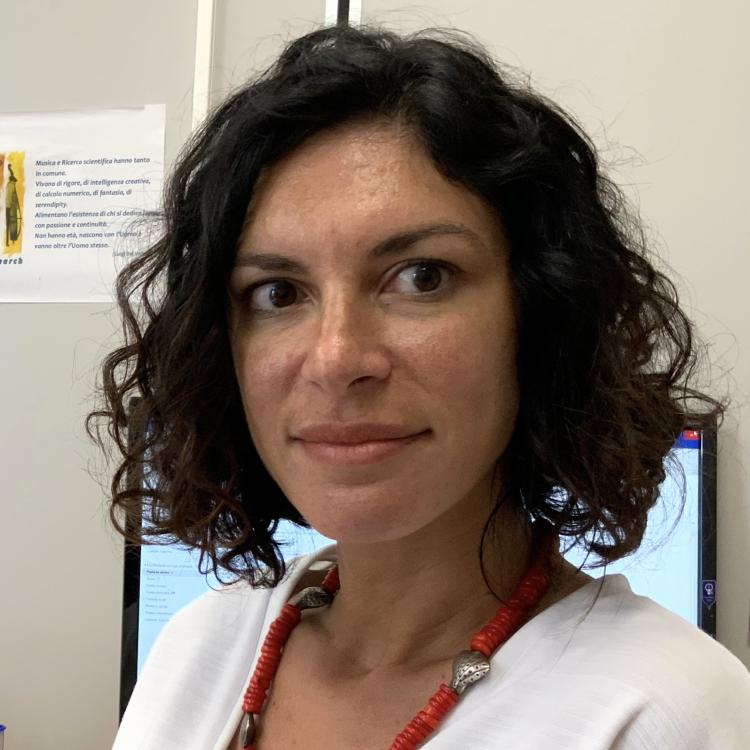 Basi molecolari di malattie ereditarie
Valeria D'Argenio
E-mail
dargenio@ceinge.unina.it
Biosketch
Assistant Professor (RTDa), Department of Molecular Medicine and Medical Biotechnologies, University Federico II, Napoli, Italy.
Assistant professor at the Department of Molecular Medicine and Medical Biotechnologies of the University of Napoli Federico II (Italy) where she teaches the course in Advanced Diagnostics and where she has also supervised and graduated BS and PhD students. Dr D'Argenio is Principle Investigator at CEINGE Biotecnologie Avanzate of Naples (Italy) where she coordinates a research group including students, lab-technicians, PhD students and Post-doc researchers. She is also responsible for molecular diagnostics.
Her research interests are in the field of NGS-based approaches to study the molecular basis of human diseases, including the analysis of genes possibly related to specific diseases, the RNA-Seq and small-RNAs analyses. In the last years, she focused on the study of human microbiome in health and disease status.
Author more than 30 articles in international peer reviewed journals and has been invited speaker in more than 20 National and International Meetings in Clinical Biochemistry and Molecular Biology. She has been awarded with the "Nunzio Pascale" Award for young investigators (2012), and the SIBioC Award for best poster presentation (2016).
Involved in national research projects and also in technological transfer activities: from 2015 she is member of the Project "One4Two: screening dell'infertilità di coppia in next generation sequencing" and co-founder of the startup Kronos DNA (now Spin-off of Federico II University).
Most relevant publications
Nunziato M, Esposito MV, Starnone F, Diroma MA, Calabrese A, Del Monaco V, Buono P, Frasci G, Botti G, D'Aiuto M, Salvatore F, D'Argenio V. A multi-gene panel beyond BRCA1/BRCA2 to identify new breast cancer-predisposing mutations by a picodroplet PCR followed by a next-generation sequencing strategy: a pilot study. Analytica Chimica Acta 2019;1046:154-162.

Iaffaldano L, Granata I, Pagliuca C, Esposito MV, Casaburi G, Salerno G, Colicchio R, Piccirillo M, Ciacci C, Del Vecchio Blanco G, Guarracino MR, Salvatore P, Salvatore F, D'Argenio V*, Sacchetti L*. Oropharyngeal microbiome evaluation highlights Neisseria abundance in active celiac patients. Sci Rep. 2018;8(1):11047.

D'Argenio V, Del Monaco V, Paparo L, De Palma FDE, Nocerino R, D'Alessio F, Visconte F, Discepolo V, Del Vecchio L, Salvatore F, Berni Canani R. Altered miR-193a-5p expression in children with cow's milk allergy. Allergy 2018;73:379-386.

Valeria D'Argenio, Giorgio Casaburi, Vincenza Precone, Chiara Pagliuca, Roberta Colicchio, Daniela Sarnataro, Valentina Discepolo, Sangman M. Kim, Ilaria Russo, Giovanna Del Vecchio Blanco, David S. Horner, Matteo Chiara, Graziano Pesole, Paola Salvatore, Giovanni Monteleone, Carolina Ciacci, Gregory J. Caporaso, Bana Jabrì, Francesco Salvatore, Lucia Sacchetti. Metagenomics Reveals Dysbiosis and a Potentially Pathogenic N. flavescens Strain in duodenum of Adult Celiac Patients. Am J Gastroenterol 2016;111:879-90.

V D'Argenio, G Frisso, V Precone, A Boccia, A Fienga, G Pacileo, G Limongelli, G Paolella, Raffaele Calabrò, F Salvatore. DNA sequence capture and next generation sequencing for the molecular diagnosis of genetic cardiomyopathies. J Mol Diagn 2014;16:32-44.