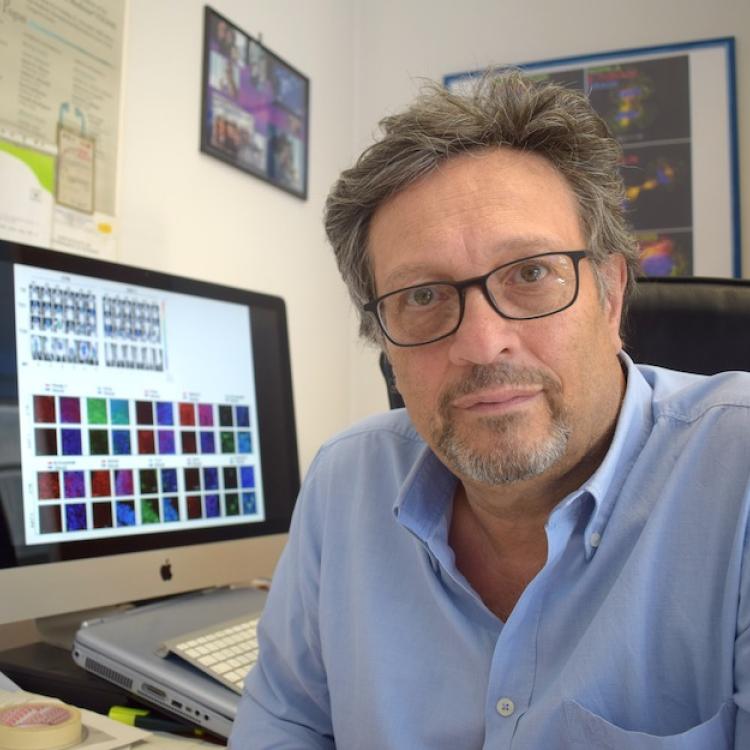 Neuroscience and pediatric neuro-oncology
Massimo Zollo
E-mail
massimo.zollo@unina.it
Biosketch
Full Professor Genetics (Dept. DMMBM) University Federico II Naples, Italy
Principal Investigator CEINGE and Director of the "CNS lab-diagnostics" CEINGE and Coordinator of Clinical Pathology and Cytogenetics facility at CEINGE.
Expert in Functional Genomics applied to Human Genetics and Molecular Oncology in brain development disorders and cancer. In 2006 he became Associate Professor (Genetics Bio-18) teaching Genetics at University Federico II of Naples, in Biotechnology Medical School, and Principal Investigator at CEINGE by directing his own laboratory. Since 2018 he is Full Professor of Genetics at the University Federico II of Naples, Department of Molecular Medicine and Medical Biotechnology (DMMBM), Principal Investigator at CEINGE Director of the "CNS-lab", and Coordinator of the Facility "Clinical Pathology and Cytogenetics in Oncology and Haematology" at CEINGE.
Research
Our Research team focus is on Human Molecular Genetics discoveries within the following studies:
i) gene identification causing inherited Brain NeuroDevelopmental diseases
ii) identification of somatic mutations responsible for tumorigenesis and metastasis in brain tumors ì (mostly paediatric tumors).
We are performing three main Researches activities which are then linked to a Diagnostic line "in service" at our AOU Federico II- CEINGE platforms
Research Group
1 - Veronica Ferrucci RTDa (Bio-18 - Genetics - DMMBM, University Federico II, Naples)
2 - Pasqualino De Antonellis Research Associate (Bio-18 - Genetics - DMMBM, University Federico II, Naples)
3 - Fatemeh Asadzadeh (PhD SEMM - CEINGE)
4 - Roberto Siciliano (Research Assistant - CEINGE)
5 - Francesca Bibbo' (PhD DMMBM, University Federico II, Naples)
6 - Carmen Surice (Research Assistant - DMMBM, University Federico II, Naples)
Most relevant publications
1- SARS-CoV-2 Subgenomic N (sgN) diagnostics and therapy
Ferrucci V, de Antonellis P, Quarantelli F, Asadzadeh F, Bibbò F, Siciliano R, Sorice C, Pisano I, Izzo B, Di Domenico C, ... and Zollo M. Loss of Detection of sgN Precedes Viral Abridged Replication in COVID‐19‐Affected Patients–A Target for SARS‐CoV‐2 Propagation. Int. J. Mol. Sci. 2022, 23, 1941.
2- PRUNE is crucial for normal brain development and mutated in microcephaly with neurodevelopmental impairment.
Zollo M, Ahmed M, Ferrucci V, Salpietro V, Asadzadeh F, Carotenuto M, Maroofian R, Al-Amri A, Singh R, Scognamiglio I, Mojarrad M, Musella L, Duilio A, Di Somma A, Karaca E, Rajab A, Al-Khayat A, Mohan Mohapatra T, Eslahi A, Ashrafzadeh F, Rawlins LE, Prasad R, Gupta R, Kumari P, Srivastava M, Cozzolino F, Kumar Rai S, Monti M, Harlalka GV, Simpson MA, Rich P, Al-Salmi F, Patton MA, Chioza BA, Efthymiou S, Granata F, Di Rosa G, Wiethoff S, Borgione E, Scuderi C, Mankad K, Hanna MG, Pucci P, Houlden H, Lupski JR, Crosby AH, Baple EL. Brain. 2017 Apr 1;140(4):940-952. doi: 10.1093/brain/awx014.PMID:28334956
3- Metastatic group 3 medulloblastoma is driven by PRUNE1 targeting NME1-TGF-β-OTX2-SNAIL via PTEN inhibition.
Ferrucci V, de Antonellis P, Pennino FP, Asadzadeh F, Virgilio A, Montanaro D, Galeone A, Boffa I, Pisano I, Scognamiglio I, Navas L, Diana D, Pedone E, Gargiulo S, Gramanzini M, Brunetti A, Danielson L, Carotenuto M, Liguori L, Verrico A, Quaglietta L, Errico ME, Del Monaco V, D'Argenio V, Tirone F, Mastronuzzi A, Donofrio V, Giangaspero F, Picard D, Remke M, Garzia L, Daniels C, Delattre O, Swartling FJ, Weiss WA, Salvatore F, Fattorusso R, Chesler L, Taylor MD, Cinalli G, Zollo M. Brain. 2018 May 1;141(5):1300-1319. doi: 10.1093/brain/awy039. PMID: 29490009.
4- The phenotypic and molecular spectrum of PEHO syndrome and PEHO-like disorders.
Salpietro V, Zollo M, Vandrovcova J, Ryten M, Botia JA, Ferrucci V, Manole A, Efthymiou S, Al Mutairi F, Bertini E, Tartaglia M; SYNAPS Study Group, Houlden H. Brain. 2017 Aug 1;140(8):e49. doi: 10.1093/brain/awx155. No abstract available.  PMID:28899015
5- Genetics of recurrent medulloblastoma.
Zollo M. Lancet Oncol. 2013 Nov;14(12):1147-8. doi: 10.1016/S1470-2045(13)70482-0. Epub 2013 Oct 17.   PMID:24140202