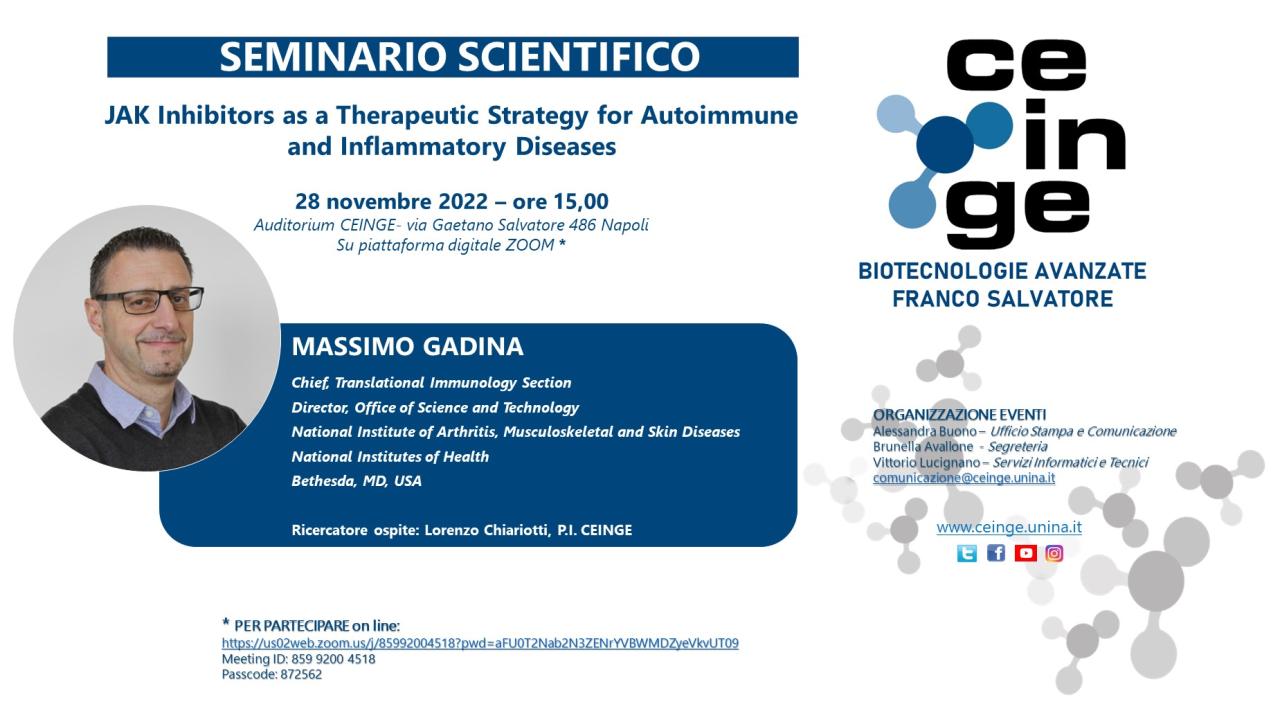 JAK Inhibitors as a Therapeutic Strategy for Autoimmune and Inflammatory Diseases
Massimo Gadina, Immunologist and Associate Scientist at NIH (National Institutes of Health - Bethesda - USA) will hold a seminar (15.00) about  "JAK Inhibitors as a Therapeutic Strategy for Autoimmune and Inflammatory Diseases".
Dr. Gadina is the Director of the Office of Science and Technology (OST) at the NIAMS, supporting intramural researchers with core technologies. He also serves as Chief of the Translational Immunology Section of the NIAMS.
Dr. Gadina's research interests are focused on the pathogenesis of immune-mediated diseases and specifically, the biology of cytokines and their relative signaling pathways. His translational work is also focused on autoinflammatory diseases and other inflammatory diseases.
At CEINGE he'll speak about drugs targeting the Janus kinases (JAKs): over the past ten years they have entered the clinical armamentarium and first generation pan-JAK inhibitors (JAKinibs) are now used worldwide for the treatment of autoimmune diseases as well as malignancies. Studies on the mechanism of action of successful JAK inhibitors have revealed that, besides T and B cells, they act on innate immune cells and can promote tolerance. For this reason, JAKinibs are proving to be useful for a variety of immunological diseases ranging from hematological malignancies, rheumatoid arthritis, psoriatic arthritis, diabetic nephropathies, alopecia to rare inflammatory diseases.
More selective, second-generation JAKinibs have now used in clinical practice while newer, third-generation are being developed and some are in late stages of clinical development for several of immune-mediated pathologies.
Gadina said: «I will review the most recent findings related to JAKinibs' mechanism of action, consider the issue of selectivity, present some of our recent work and briefly discuss their side effect and toxicity and comment about the lessons we have learned so far and what are the questions and challenges that this relatively new class of drugs is still facing».
Host: Lorenzo Chiariotti, P.I. CEINGE
LUOGO DELL'EVENTO
Auditorium CEINGE-Biotecnologie avanzate Franco Salvatore
-
80131
-
Napoli
-
NA