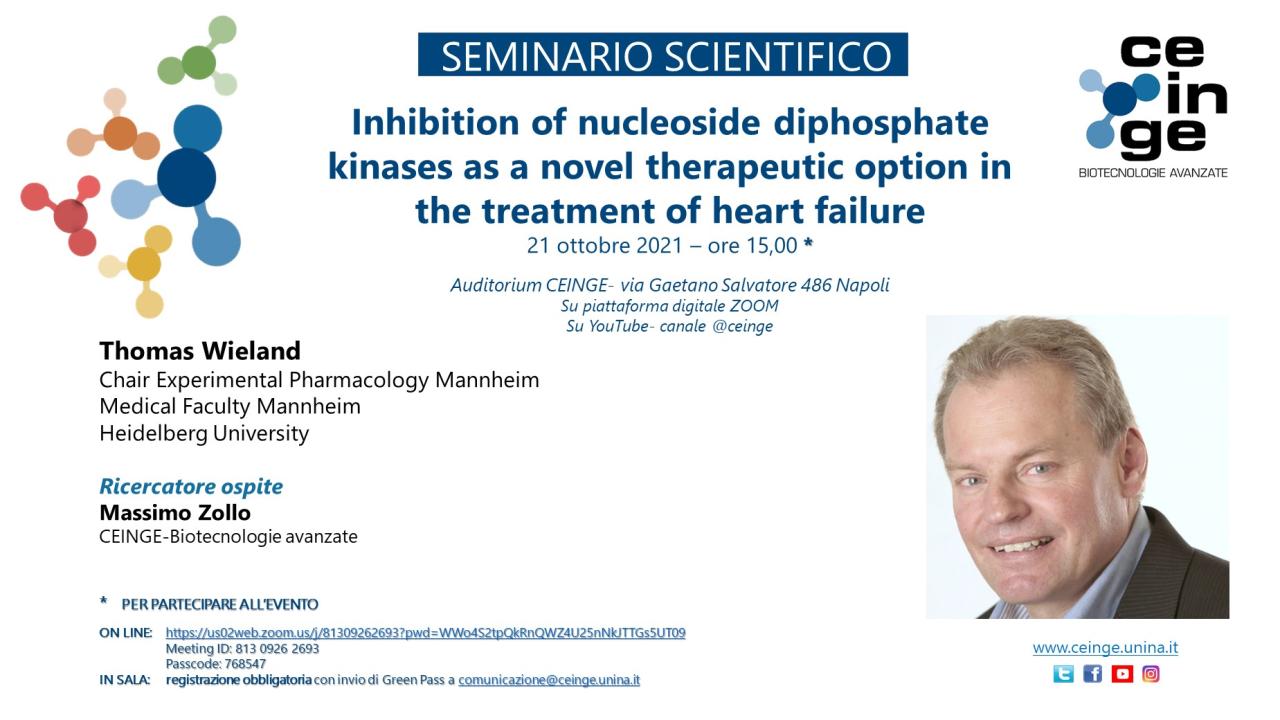 Insufficienza cardiaca, ne parla Thomas Wieland al CEINGE
Tornano gli eventi in presenza al CEINGE, con il seminario scientifico che Thomas Wieland, direttore di Farmacologia Sperimentale della Facoltà di Medicina Mannheim (Università di Heidelberg), terrà nell'Auditorium di via Gaetano Salvatore (oltre che su piattaforma ZOOM).
Il professor Wieland parlerà di insufficienza cardiaca con un talk dal titolo "Inhibition of nucleoside diphosphate kinases as a novel therapeutic option in the treatment of heart failure". 
Wieland studia la famiglia genica NME/ NDPK di cui la isoforma NME2 è stata identificata dal suo team come preferenzialmente espressa in cellule cardiache umane. Studiando i meccanismi biochimici di NME/NDPKB/ NDPKC e la sua fosforilazione nella Istidina catalitica 118, ne ha dimostrato il ruolo funzionale in diversi animali modello, incluso zebrafish. La correlazione alle disfunzioni cardiovascolari è stata infatti identificata per la prima volta in un modello zebrafish e poi dimostrata anche in modello cellulare di cardiomiociti di ratto per il gene NDPK-C e le proteine G riducendo l'AMP ciclico. (Issam H. Abu-Taha, et al. Circulation. 2017;135:881–897).  L'insufficienza cardiaca, la retinopatia diabetica e l'angiogenesi tumorale sono spunti da cui è partito con l'obiettivo di contribuire alla comprensione della fisiopatologia che sta alla base di tali malattie e di scoprire nuovi bersagli farmacologici che consentano un trattamento più ottimizzato dei pazienti.
Per partecipare all'evento in presenza è necessario prenotarsi scrivendo a comunicazione@ceinge.unina.it. Saranno accettate richieste fino ad esaurimento dei posti disponibili in sala, in ottemperanza a quanto disposto dalla normativa vigente. Si ricorda, inoltre, che l'accesso al CEINGE è consentito esclusivamente ai possessori di Green Pass.
Sarà possibile seguire il seminario anche in streeming sul canale YouTube del CEINGE e su piattaforma ZOOM al seguente link:
https://us02web.zoom.us/j/81309262693?pwd=WWo4S2tpQkRnQWZ4U25nNkJTTGs5UT09
Meeting ID: 813 0926 2693
Passcode: 768547
LUOGO DELL'EVENTO
CEINGE-Biotecnologie avanzate
-
80131
-
Napoli
-
NA