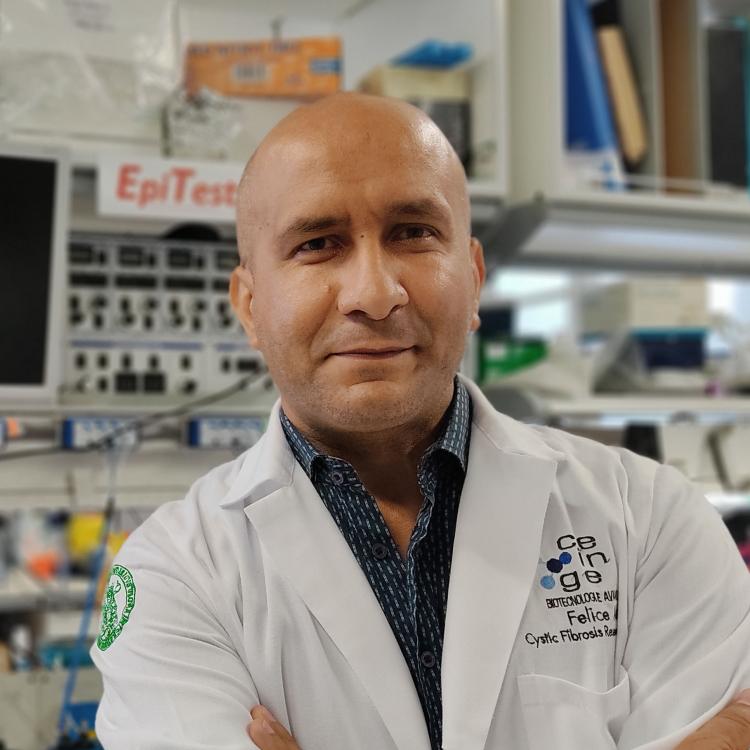 Cystic Fibrosis: genetics and functional characterization for precision medicine
Felice Amato
E-mail
felice.amato@unina.it
Biosketch
Felice Amato graduated in Biological Sciences with 110/110 cum laude at the University of Palermo and obtained a PhD degree at the European School of Molecular Medicine (SEMM), with a curriculum in genetics. He spent a good part of the PhD training period at the Laboratory of Organogenesis and Genetics of the Hospital for Special Surgery in New York, USA, where he focused his research activity in the regulation of gene expression and protein-protein/protein-DNA interactions. Then, he moved to the Department of Biochemistry and Medical Biotechnology of the University of Naples and to CEINGE Advanced Biotechnology, where he has participated in research projects aimed at understanding the transcriptional and post-transcriptional regulation of the CFTR gene, the functional characterization of genetic mutations in various hereditary diseases, such as congenital chloridorrhea, osteogenesis imperfecta and genes involved in the predisposition to thrombotic diseases. In 2016 he obtained the specialization in Clinical Biochemistry.
Today he is associate professor of Technical Sciences of Laboratory Medicine (MED / 46), at the Department of Molecular Medicine and Medical Biotechnology of the University of Naples Federico II.
His research activity focuses on the development of methodologies for the functional evaluation of the CFTR protein, both for research, diagnosis and drug screening purposes. In this context, he uses cells from the nasal epithelium (hNEC) brushed directly from patients for electrophysiology studies with a Ussing chamber and more. He also works on genome editing systems based on Crispr/Cas9 technology, with particular attention to the efficiency and off-target aspects of this powerful technology. Furthermore, he works on the development of biosensors for the detection of markers of diagnostic interest in the microbiological field and in clinical biochemistry in general.
He is a member of the research and genetics committee of the Italian Society for the Study of Cystic Fibrosis (SIFC).
Furthermore, he is a member of the Italian Society of Clinical Biochemistry (SiBioC) and of the Italian Society of Translational Research and Health Professions (S.I.R.T.E.P.S.).
Research
Cystic Fibrosis (CF) is the most common and lethal autosomal recessive disease among the Caucasian population, with an incidence of 1: 2500-3000 live births. The disease is due to the alteration of saline transport through the apical portion of the epithelial cells of various organs, such as the pancreas, lungs, intestine, male gonads, and liver. The Cystic Fibrosis Transmembrane Conductance Regulator (CFTR) gene, which causes the disease, was cloned in 1989. Today, thanks to the molecular analysis of the coding regions of the CFTR gene alone, it is possible to identify mutations in about 95-97% of alleles. Cystic Fibrosis has a very heterogeneous clinical phenotype and pathological complications at the pulmonary, hepatic and gastrointestinal levels can be extremely variable in patients with the same mutation and also in pairs of siblings.
We hypothesize that causative CF mutations or genetic variants that influence the clinical variability of the disease may reside in non-coding regions of the CFTR gene (intronic regions, 5'- 3 'UTR regions, promoter regions, etc.), as well as in modifier genes. .
To date, more than 2000 variants are known in the CFTR gene, of which it is not clear, for many of them, their pathogenetic effect, especially for the missense ones. The situation is more complicated in the case of rare or new mutations; especially in genetic counseling as in the case of prenatal diagnoses. Furthermore, the possibility of using new mutation-specific therapies is closely related to the patient's response. For all these reasons, with a view to personalized medicine, in recent years, we have dedicated ourselves to the development of an "ex vivo" cell model, taking the cell sample directly from the patient, in order to assist the molecular diagnosis and choice therapeutic. The use of the "ex-vivo" model of nasal epithelial cells (HNECs) is an important and valid research and diagnostic tool in the study of Cystic Fibrosis both to verify the pathogenicity of a gene variant and to determine the responsiveness of patients to specific drugs, avoiding expensive, useless and / or harmful therapies for the patient.
Research lines
1. Cystic Fibrosis: characterization of novel gene variants in the CFTR gene and related genes through in vitro and ex vivo models.
2. Peptide nucleic acids (PNAs) as potential amplifiers of CFTR for the treatment of cystic fibrosis
3. Biosensors for the detection of markers of diagnostic interest in the microbiological field and in clinical biochemistry in general.
Most relevant publications
Amato, F., Scudieri, P., Tomati, V., Comegna, M., Maietta, S., Manzoni, F., Di Lullo, A.M., De Wachter E., Vanderhelst E., Terlizzi V., Braggion C., Castaldo G., Galietta, L. J. V. (2019).

Two CFTR mutations within codon 970 differently impact on the chloride channel functionality. Human Mutation, (February), 1–7.
Terlizzi, V., Castaldo, G., Salvatore, D., Lucarelli, M., Raia, V., Angioni, A., Carnovale, V., Cirilli, N., Casciaro, R., Colombo, C., Di Lullo, A.M., Comegna, M., … 

Zarrilli, F., Amato, F. (2017). Genotype-phenotype correlation and functional studies in patients with cystic fibrosis bearing CFTR complex alleles. Journal of Medical Genetics, 54(4), 224–235.
Amato, F., Seia, M., Giordano, S., Elce, A., Zarrilli, F., Castaldo, G., & Tomaiuolo, R. (2013).

Gene Mutation in MicroRNA Target Sites of CFTR Gene: A Novel Pathogenetic Mechanism in Cystic Fibrosis? PLoS ONE, 8(3), 4–9.
Castaldo A, Cernera G, Iacotucci P, Cimbalo C, Gelzo M, Comegna M, Di Lullo AM, Tosco A, Carnovale V, Raia V, Amato F. TAS2R38 is a novel modifier gene in patients with cystic fibrosis. Sci Rep. 2020 Apr 2;10(1):5806. doi: 10.1038/s41598-020-62747-9. PMID: 32242045; PMCID: PMC7118092.
Liguori R, Quaranta S, Di Fiore R, Elce A, Castaldo G, Amato F. A novel polymorphism in the PAI-1 gene promoter enhances gene expression.

A novel pro-thrombotic risk factor? Thromb Res. 2014 Dec;134(6):1229-33. doi: 10.1016/j.thromres.2014.09.021. Epub 2014 Sep 28. PMID: 2528846