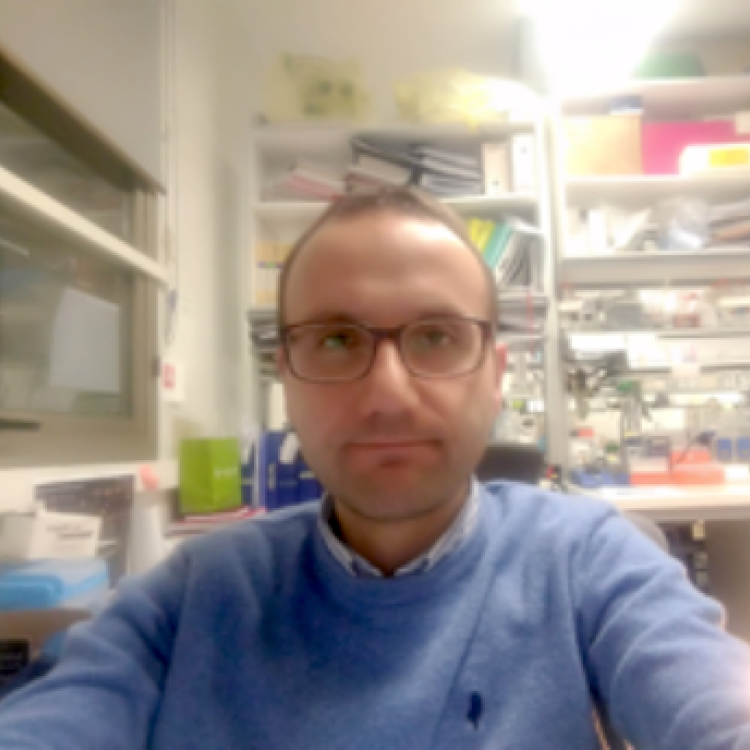 Animal Facility
Francesco Napolitano
E-mail
napolitano@ceinge.unina.it
Biosketch
2014–

: Term-fixed researcher at University of Naples "Federico II"-Department of Molecular Medicine and Medical Biotechnologies;

2009-2017:

Deputy responsible for the animal welfare at CEINGE Biotecnologie Avanzate,

2017-:

Responsible for the animal welfare at CEINGE Biotecnologie Avanzate,

2018-

at present: Scientific responsible for the animal facility at CEINGE Biotecnologie Avanzate.

Education

2013-2014:

Post-doctoral fellowship for the project: "L-DOPA-Induced Dyskinesia in Parkinson's Disease: New Mechanisms and Molecular Targets", Second University of Naples.

2010- 2012:

Post-doctoral fellowship in behavioral Neuroscience,

CEINGE-Biotecnologie Avanzate.

2004-2009:

PhD in Neuroscience "Second University of Naples";

1997-2004:

Master Degree in Biological Sciences-University of Naples "Federico II"
GRANT:
PROGRAM "Futuro in Ricerca 2013" Prot. RBFR13S4LE: "Ruolo di mTORC1 nelle alterazioni striatali associate alle discinesie da L-Dopa".
Most relevant publications
Napolitano F, D'Angelo L, de Girolamo P, Avallone L, de Lange P, Usiello A. The Thyroid Hormone-target Gene Rhes a Novel Crossroad for Neurological and Psychiatric Disorders: New Insights from Animal Models.

Napolitano F, D'Angelo L, de Girolamo P, Avallone L, de Lange P, Usiello A. Neuroscience.

2018 Aug 1;384:419-428. doi: 10.1016/j.neuroscience.2018.05.027. Epub 2018 May 30. Review.

Napolitano F, Booth Warren E, Migliarini S, Punzo D, Errico F, Li Q, Thiolat ML, Vescovi AL, Calabresi P, Bezard E, Morelli M, Konradi C, Pasqualetti M, Usiello A. Decreased Rhes mRNA levels in the brain of patients with Parkinson's disease and MPTP-treated macaques. PLoS One. 2017 Jul 25;12(7):e0181677. doi: 10.1371/journal.pone. 0181677. eCollection 2017.

Brugnoli A, Napolitano F, Usiello A, Morari M. Genetic deletion of Rhes or pharmacological blockade of mTORC1 prevent striato-nigral neurons activation in levodopa-induced dyskinesia. Neurobiol Dis. 2016 Jan;85:155-63. doi: 10.1016/j.nbd.2015.10.020. Codice Scopus: 2-s2.0-84946434599. WOS: 000366955200015.

Blasi G, Napolitano F, Ursini G, Di Giorgio A, Caforio G, Taurisano P, Fazio L, Gelao B, Attrotto MT, Colagiorgio L, Todarello G, Piva F, Papazacharias A, Masellis R, Mancini M, Porcelli A, Romano R, Rampino A, Quarto T, Giulietti M, Lipska BK, Kleinman JE, Popolizio T, Weinberger DR, Usiello A, Bertolino A. Association of GSK-3β Genetic Variation With GSK-3β Expression, Prefrontal Cortical Thickness, Prefrontal Physiology, and Schizophrenia. Am J Psychiatry. 2013 Aug 1;170(8):868-76.

Subramaniam S, Napolitano F, Mealer R G, Kim S,  Errico F, Barrow R, Shahani N, Tyagi R, Snyder S H, Usiello A. Rhes, a striatal-enriched small G-protein, mediates mTOR signaling and L-DOPA-induced dyskinesia. Nat Neurosci. 2011 Dec 18;15(2):191-3.