Advanced Light Microscopy (ALM)
The Advanced Light Microscopy (ALM) Facility at CEINGE is provided with cutting-edge collection of microscopes, imaging and data analysis systems. The facility provides scientific and technical support in choosing the experimental design and most appropriate microscopy techniques in order to pursue specific scientific goals, and offers expert help in microscope use and data analysis. In addition, users can take advantage of a sample preparation service for super-resolution, and optimization of ad hoc immunofluorescence protocols for specific primary antibodies.

The ALM Facility also organizes courses and seminars, aimed at instructing internal users on the available equipment and updating them on the new methods that can be used in the field of microscopy.
                                              EQUIPMENT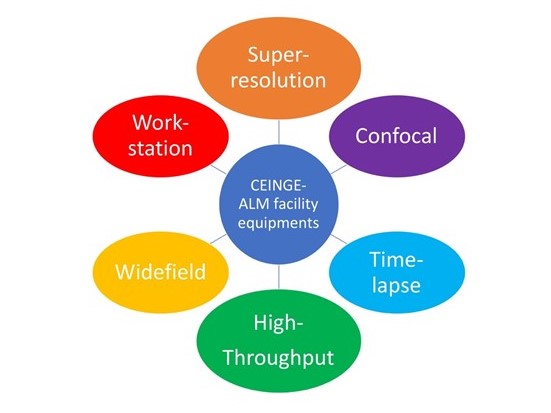 Super-resolution
Confocal
High-Throughput
Time-Lapse
Widefield
Workstation
Contacts:
Head of Facility: Prof. Caterina Missero
e-mail : missero@ceinge.unina.it
Technical and Scientific Advisor: