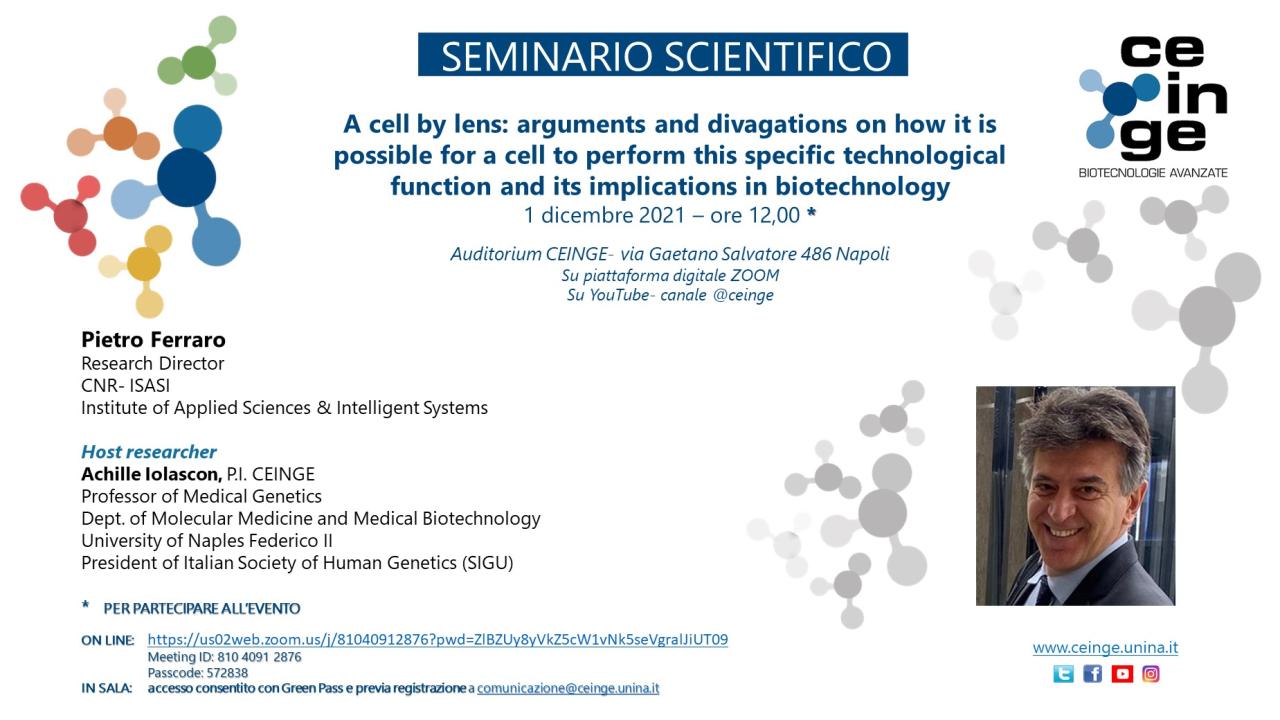 A cell by lens: how it is possible this specific technological function
Pietro Ferraro, direttore di ricerca presso il CNR-ISASI (Istituto di Scienze Applicate e Sistemi Intelligenti), terrà un seminario dal titolo "A cell by lens: arguments and divagations on how it is possible for a cell to perform this specific technological function and its implications in biotechnology". 
L'appuntamento è per le ore 12.00. Il seminario si svolgerà in modalità mista.
Per partecipare all'evento in presenza è necessario prenotarsi scrivendo a comunicazione@ceinge.unina.it. Saranno accettate richieste fino ad esaurimento dei posti disponibili in sala, in ottemperanza a quanto disposto dalla normativa vigente. Si ricorda, inoltre, che l'accesso al CEINGE è consentito esclusivamente ai possessori di Green Pass.
Sarà possibile seguire il seminario anche in streaming sul canale YouTube del CEINGE e su piattaforma ZOOM al seguente link:
https://us02web.zoom.us/j/81040912876?pwd=ZlBZUy8yVkZ5cW1vNk5seVgralJiUT09
Meeting ID: 810 4091 2876
Passcode: 572838
LUOGO DELL'EVENTO
AUDITORIUM CEINGE - via Gaetano Salvatore 486
-
80131
-
Napoli
-
NA