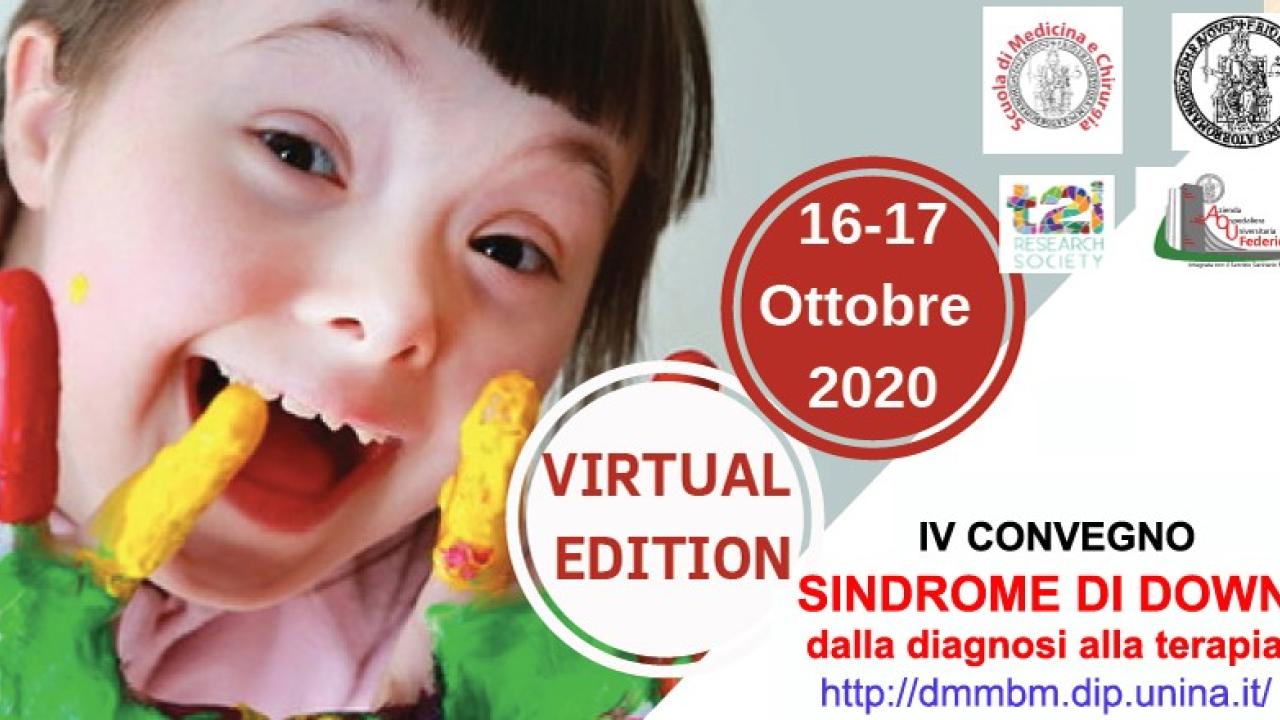 IV Convegno Sindrome di Down - Virtual edition
Il 16 e il 17 ottobre si terrà la IV edizione del Convegno Sindrome di Down dalla diagnosi alla terapia (Responsabile scientifico Prof. Lucio Nitsch).
Organizzato dalla Scuola di Medicina e Chirurgia, dalla società consortile T2I – Trasferimento Tecnologico e Innovazione, dalla AOU Federico II e dall'Università Federico II di Napoli, l'evento quest'anno sarà una Virtual Edition e tratterà temi quali:
Basi cellulari e molecolari della sindrome di Down;

Alterazioni dei profili molecolari nella sindrome di Down;

Sindrome di Down ed Alzheimer: biomarcatori e meccanismi molecolari;

Down syndrome and Alzheimer disease: advancements in preclinical and clinical research;

Patologie associate alla sindrome di Down;

Focus sulle terapie farmacologiche e nutrizionali;

Approccio, monitoraggio e terapia delle disabilità.
Quali sono le attese nel dialogo tra ricercatori, associazioni e familiari di persone Down? Questo l'argomento di discussione nella Tavola Rotonda che concluderà il convegno.
INFORMATION FOR PARTICIPATION IN THE CONFERENCE
The conference is free and open to all. No registration is needed.
The conference is in Italian with the exception of the session of Friday 16, 14.30-16.15 (CEST).
The conference will take place on the Zoom platform.
The link and codes to connect are as follows:
Join Zoom Meeting
https://us02web.zoom.us/j/83184977306?pwd=UFVaTjlKeG9RT29ZZ1BTRHE5UjNOUT09
Meeting ID: 831 8497 7306
Passcode: AmTJm5
These same codes will be used for the entire duration of the meeting and also for the day THURSDAY 15, from 16:00 to 18:00 when there will be a test connection with the speakers and all those who want to verify the ability to connect.
In case of difficulty call the number: +39-0817463621 or +39-3336297283.